Outdoor Fireplaces and Outdoor Kitchens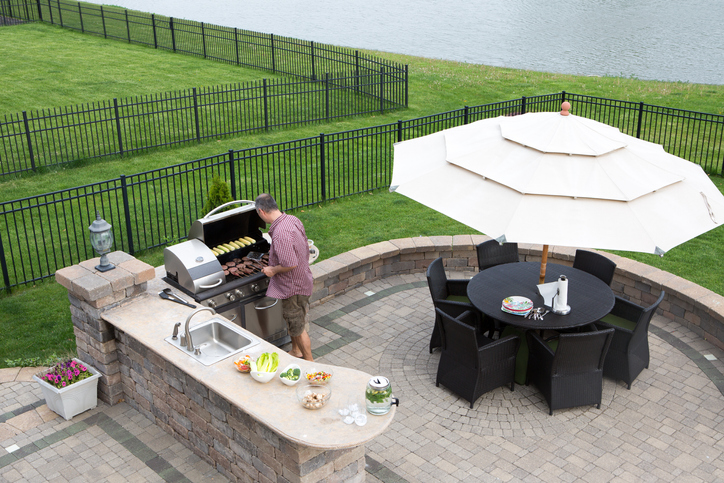 At SLS Landscaping, we're your established builder of outdoor fireplaces and outdoor kitchens in South Jersey! We are a full service landscaping company in Lumberton that offers above and beyond beauty and features to your outdoor space. Our staff includes licensed and degreed professionals, from landscape architects to ornamental applicators to trained service technicians. We can transform your outdoor space into an exciting and inviting destination.
In the landscape industry, there is a rapidly growing shift towards making outdoor spaces more livable. Outdoor fireplaces and outdoor kitchens are a part of turning one's deck or pool into the area of the home to entertain, and they've become the most popular elements of almost every landscape design we create. The impact and added value to your home with an outdoor space that includes a fireplace and a kitchen is huge, and you should trust the task to a team that does it right.
Our process includes a design consultation where we establish your needs and desires to go along with your lifestyle. After a site analysis that includes measurements and grading, we'll develop a professional design for your fireplace or kitchen with all of the key features. Our install team will then meticulously construct your hardscape to the last detail, and we'll maintain your living space afterward.
SLS Landscaping can design and build your fireplaces and kitchens to beautifully blend in with your home's exterior, and we strive to offer you the latest features available. We use texture, color and dimension to add an elegant touch to your project. We're able to install all sorts of additional features to your outdoor space, including premium home theater systems.
Find out more about why SLS Landscaping is leading the way in living spaces, including stunning outdoor fireplaces and outdoor kitchens. Contact us today or use this form to request a quote. We're looking forward to creating an outdoor space you and your guests will love!