Bluestone Elevated Terrace in Lumberton, NJ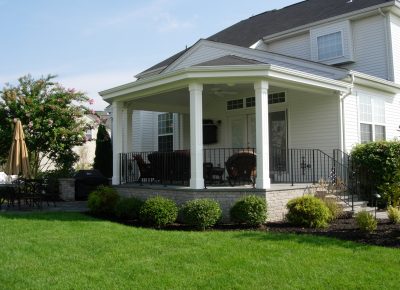 SLS recently completed a bluestone, elevated terrace in Lumberton, New Jersey. Have a look at the photos below to see the amazing results, and the difference that SLS Landscaping can make for your South Jersey home!
We designed and installed this rear home bluestone elevated terrace with wrought iron railings and attached roof structure. The interior roof is finished with tongue and groove composite Azek, with recessed lighting and ceiling fan and completed with audio surround and video wall mount.
The architectural wall block creates the elevated terrace and steps and completed with patterned thermal bluestone and step treads. The gas grill has a surround that provides enclosure and the remaining yard is landscaped to provide soft year round privacy. The low voltage lighting accents the landscape and hardscape while providing night security.
Are you interested in adding an elevated terrace in your home? Reach out to SLS Landscaping today or click here to request an initial estimate. We are your certified professionals in the region, and we can add a whole new level of beauty and value to your outdoor space. Click here to see more examples of our finished work, and what we've been able to do for Lumberton residents!
Photos of Bluestone Elevated Terrace in Lumberton, NJ
Our Certifications: At SLS Landscaping, our team of landscape architects are educated and certified professionals with a wealth of experience in the industry. SLS Landscaping is a proud member of the Inter Locking Pavement Institute, the New Jersey Nursery and Landscape Association, and the Greater Lumberton Regional Business Association. We are regularly trained in best industry practices, to offer our customers the best possible landscaping and hardscaping services.
Get ideas today for your outdoor space and see how we can beautify your home and its curb appeal – Follow us on Facebook today!