Bluestone Step and Entrance in Mount Laurel, NJ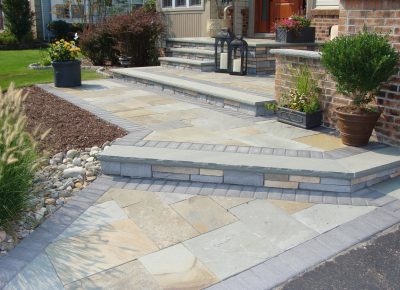 SLS recently completed a bluestone step and entrance in Mount Laurel, New Jersey. Take a look at the results in the photo collection below, and find some ideas for revitalizing the outdoor space in your home. SLS Landscaping is ready to grant your hardscaping wishes, with quality work that is built to last.
We created this beautiful front entrance using patterned natural cleft bluestone and limestone step treads. The earth tones in the bluestone complement the tan tones in the brick façade on the house. An intimate seating area provides for quiet morning coffee and a newspaper or a perch for treat giving on a festive Halloween!
Photos of Bluestone Step and Entrance in Mount Laurel, NJ
Are you interested in changing your South Jersey home's outdoor space for the better? The pros at SLS Landscaping have been beautifying yards and outdoor areas for both home and business owners in the region since 1992. We employ Certified Landscape Technicians that can help you design the ideal arrangement of plants, stones, walkways and so much more. We invite you to have a look at more of our finished projects, both on our portfolio and on our Facebook page…see some beautiful spaces, get new ideas, and reach out to us for an estimate today!
SLS Landscaping is an E.P. Henry Preferred Contractor, and we are also certified by the Interlocking Pavement Institute, the New Jersey Nursery and Landscape Association, and the Greater Lumberton Regional Business Association. You can see more of our certifications here.