Cobblestone Walkway in Lumberton, NJ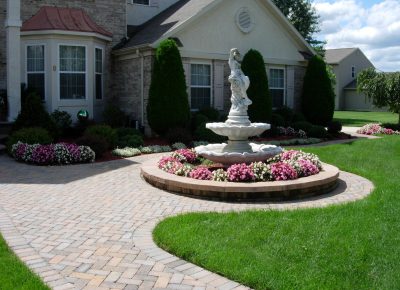 SLS recently completed a Roman cobblestone walkway in Lumberton, New Jersey. Have a look at the photos below to see the amazing results, and ask us what we can do to improve the curb appeal of your Lumberton home!
This roman cobblestone walkway caries from the driveway to the front home entrance and accented with a roman fountain. The gardens are planted fully and bordered with colorful seasonal annuals. The front entrance steps are softly lighted with matching low voltage lighting fixtures that provide elegant lighting along with added safety.
Are you a homeowner looking for professionals to build a cobblestone walkway in Lumberton? At SLS Landscaping, we provide full hardscaping services for home and business owners throughout Lumberton and the surrounding area. We can add a new hardscape to your outdoor space that you and your guests will love, with color, texture, and dimension that enhances your finished project.
Our professionals and team have earned multiple certifications in the area, including membership in the Greater Lumberton Regional Business Association (GLRBA), the Interlocking Pavement Institute, and Techno Pro Contractors along with many others. We stay on top of trends and industry best practices, to bring the highest quality hardscaping results to your home. We hope you'll take a look at our portfolio here and see some more of our finished projects.
Get started today improving the look, function, and curb appeal of your Lumberton home…contact us today or click here to request your initial estimate, and tell us about your dream hardscape and walkway. We're looking forward to adding beauty and value to your home!
Photos of Cobblestone Walkway in Lumberton, NJ
Interested in seeing more finished projects, reading reviews from delighted customers, and more? Be sure to Follow our Facebook page, and learn more about what we can do for your outdoor space!