Custom Swimming Pool in Haddon Township, NJ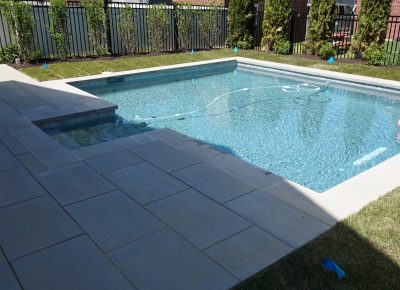 SLS completed this custom swimming pool in Haddon Township, New Jersey. Take a look below to see the amazing results, and get ideas for your own custom swimming pool!
As you may already know, an in-ground pool in Haddon Township is quite rare due to the limited space of most properties in the region. We took this into account and created a Contemporary style pool, with decorative architectural paver pool coping and pool terrace. We also added medium gray pool plaster, which blends well with the pool coping and terrace.
As you can see the pool occupies most of the yard, but we were able to work in some hardscaping around the pool, making it fit well with the property and allow for space to use the pool for both residents and guests.
Are you interested in making the most of your outdoor space? Let SLS Landscaping be your choice for a custom swimming pool on your property! Have a look at our custom swimming pool page and more case studies here, and get ideas for what we can do to improve the livability, function, and appeal of your Haddon Township home.
Reach out to us today and request a consultation, and let us show you what we can do to enhance your yard. Our certified experts and professionals have the background, tools, and know-how to create a beautiful pool in your outdoor space. We're looking forward to adding beauty and value to your home!
Photos of Custom Swimming Pool in Haddon Township, NJ
SLS Landscaping is a certified
E.P. Henry preferred contractor
, a member of the
Interlocking Pavement Institute
, and a proud member of the
Northeast Spa & Pool Association
. See more about our certifications and qualifications here, and why we're a trusted and established contractor in the Camden County region!