Custom Swimming Pool in Mt. Laurel, NJ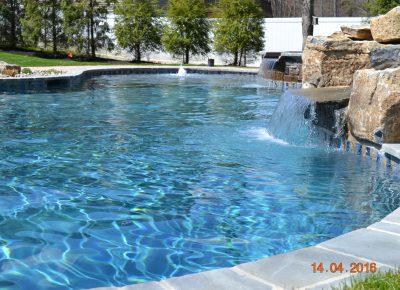 Creating the family recreational swimming pool environment was the focus of this custom swimming pool in Mt. Laurel, New Jersey.Have a look at the beautiful photos below to see the amazing results, and get ideas for what SLS Landscaping can do for your Mt. Laurel home!
The free form shape of this Gunite pool was created to offer a soft ascetic feel. The elevated stone spa, with therapeutic air blower forced jets creates a relaxing get away retreat for both home residents and guests. The water slide offers hours of fun for the kids and the more adventurous adults.
This pool also includes a custom built waterfall, with multiple spillways to offer the tranquil sound of splashing water, for additional relaxation in the pool anytime. We also added energy efficient LED lights and pool equipment for additional comfort to this customer's wallet on a monthly basis!
At SLS Landscaping, we're your established destination for when you're looking to install a custom swimming pool in Mt. Laurel. We can add a beautiful new pool to your outdoor space, add value to your home, and make it a more inviting place for parties and for your guests. Reach out to us today and request a quote, and tell us what you're looking for…we can make it happen for you!
Photos of Custom Swimming Pool in Mt. Laurel, NJ
Interested in seeing more case studies and completed custom swimming pool projects in Burlington County?
Have a look at our custom swimming pool page here
! SLS Landscaping is a certified member of the
Northeast Spa & Pool Association
, and we are also an
E.P. Henry Preferred Contractor
. See more of our qualifications and certifications
here
.