Freeform Swimming Pool In Maple Glenn, PA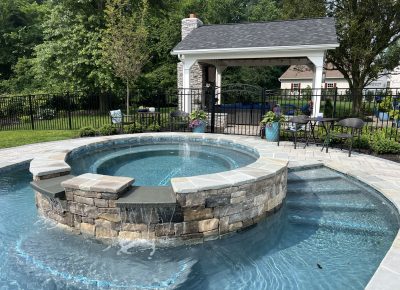 Discover this new freeform swimming pool in Maple Glenn, PA, otherwise known as the homeowner's dream pool, an extraordinary swimming pool crafted to perfection by SLS Landscaping. This exquisite oasis features an expansive spa, a serene sun shelf, and a mesmerizing waterfall, offering unrivaled luxury and relaxation.
The pool terrace environment provides an abundance of space, ensuring ample room for cherished family gatherings and unforgettable summer pool parties. Embrace the joys of togetherness while indulging in the refreshing waters of the pool, creating lasting memories in a truly enchanting setting.
Surrounded by a lush and vibrant landscape, the pool environment is adorned with meticulously selected foliage that promises captivating seasonal interest throughout the year. Immerse yourself in a visual masterpiece, where nature seamlessly blends with the elegance of the pool, creating an atmosphere of tranquility and beauty.
Located in the charming Maple Glenn, Pennsylvania, this free form swimming pool by SLS Landscaping exemplifies their dedication to crafting extraordinary outdoor spaces that surpass expectations. Experience the ultimate fusion of artistry and functionality as you embark on a journey of unparalleled relaxation and luxury.
For a stunning freeform swimming pool like the one in Maple Glenn, PA, contact our experts at SLS Landscaping. Our fully educated, trained, and experienced landscape architects will guide you in building your dream pool from scratch. Through our meticulous design process, we'll gather all necessary details, hold meetings with you, and create a design that precisely matches your vision. Our dedicated design and installation team will then bring your dream pool to life, handling every step of the process with expertise. We also offer maintenance services to ensure your pool remains in pristine condition.
Photos of Freeform Swimming Pool In Maple Glenn, PA
---
Reach out to us today to start the journey towards your perfect pool.
Contact Us!
Interested in seeing some more case studies, samples of our finished work, and finding more ideas for your South Jersey landscape? Follow our Facebook page today!