Front Entrance and Walkway in Mount Laurel, NJ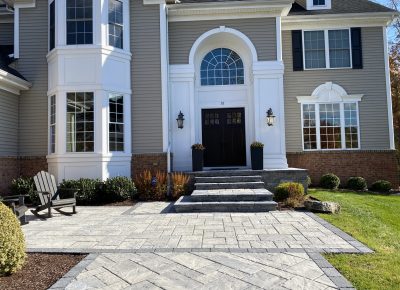 SLS recently competed this new front entrance and walkway in Mount Laurel, NJ. We've included photos below so you can see the amazing results, and how much of a difference SLS Landscaping can make for your Mount Laurel home!
This inviting front entrance and intimate seating space to set the tone for your discerning guests. The interlocking paver walkway transitions into an exquisite miniature patio and sitting area for small gatherings or tea for two. Wide inviting steps bring your guests to a large door stoop and home to you!
Hardscaped Front Entrance and Walkway in Mount Laurel, NJ
Are you a local home or business owner looking to add an entrance and walkway to your Mount Laurel property?
Reach out to SLS Landscaping today
and tell us what you're looking for and ask how we can help. We are licensed and certified hardscaping professionals based in nearby Lumberton, and we provide first class outdoor space improvements throughout the area.
Our certifications are from respected local organizations including the Interlocking Pavement Institute, E.P. Henry Preferred Contractors, and the New Jersey Nursery and Landscape Association. Our professionals are ready to change your outdoor space for the better, and add beauty and value to your Mount Laurel home!
Be sure to visit our Facebook page to see more case studies, finished projects, customer testimonials and much more!