Functional Synthetic Turf Installation in Barnegat, NJ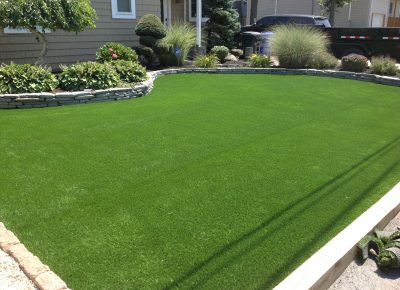 SLS Landscaping recently created a functional synthetic turf installation in Barnegat, New Jersey. Have a look at the beautiful photos below and see the difference the professionals at SLS can make for your home! Achieving the vision of a maintenance free lawn with synthetic turf was on the filet board at this home.
When you want the beauty of a lush, green lawn without the maintenance of a traditional lawn then the answer is with synthetic turf. There are many options for turf styles the will suit any need.
Are you a home or property owner interested in a functional synthetic turf installation in Barnegat or elsewhere in South Jersey? If you are a golf lover, or if you simply want to add a new dimension to your yard, reach out to SLS Landscaping for your synthetic turf installation! We can install synthetic turf that looks and feels exactly like real grass, without the lawn maintenance required. We can create an ideal look and feel for your space, and add value to your home…contact us today to get started!
Interested in seeing more case studies, completed projects, and more ideas for your outdoor space? Check out our Facebook page!
Photos of Functional Synthetic Turf in Barnegat, NJ
E.P. Henry Preferred Contractor
, as well as a member of the
New Jersey Nursery and Landscape Association
. To see our additional credentials
click here
.