Hardscaping & Custom Swimming Pool In Mount Laurel, NJ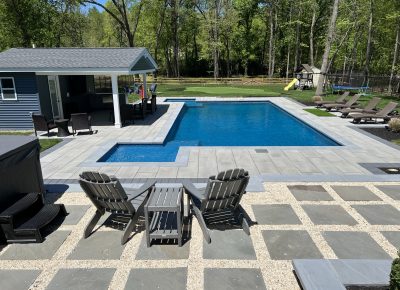 At SLS Landscaping, We recently had the opportunity to build a custom swimming pool in Mount Laurel, NJ, for a client, and we are thrilled with the results. We take pride in our ability to create custom swimming pools that are both beautiful and functional for clients.
This swimming pool is truly a backyard oasis. It features a fully automated large heated swimming pool with a sun deck for chilling out and the cozy cove for a spa like feel. The pool is surrounded by a multi terrace patio and pool decking that offers individual areas for play, entertaining, and intimate gatherings.
In addition to the swimming pool, we also installed a full service outdoor kitchen equipped with hot and cold water sink, flat top griddle, refrigerator, ice maker, natural gas grill, and utility storage. This makes it easy for our client to entertain guests without having to go back and forth into the house.
We also installed a chipping and putting green, which is a great way for the kids to stay busy and for the serious golfer to practice.
The pool house consists a changing area and full bathroom so why even go into the house!
We are confident that our client will enjoy this custom swimming pool for many years to come. It is the perfect place to relax and have fun with family and friends.
Here are some of the key features of this custom swimming pool in Mount Laurel, NJ:
Fully automated large heated swimming pool
Sun deck for chilling out and cozy cove for a spa like feel
Multi terrace patio and pool decking
Full service outdoor kitchen with hot and cold water sink, flat top griddle, refrigerator, ice maker, natural gas grill, and utility storage
Chipping and putting green
Pool house with changing area and full bathroom
Photos of Hardscaping & Custom Swimming Pool In Mount Laurel, NJ