Heated Gunite Pool in Moorestown, NJ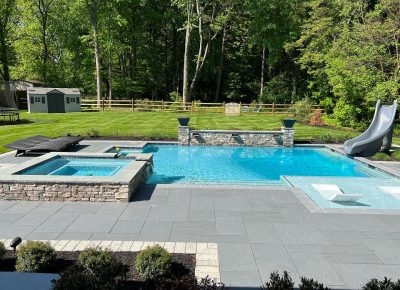 SLS Landscaping completed this project for a local homeowner in the area…a heated gunite pool in Moorestown, NJ. Have a look at the beautiful photos below to see the results, and see the difference SLS can make for your outdoor space!
Eternal Relaxation: This custom designed and constructed heated gunite pool in Moorestown has it all, with a ten person spa, along with therapy jets and air blower.
It features a Sun shelf with lighted bubblers, a water slide that you and your guests can't resist using. Other features include an elevated stone beam wall with copper waterfall scuppers and pier mounted fire bowls.
This heated gunite pool was built with an interlocking Techo-Bloc multi terrace patio. To go along with the pool and the gathering atmosphere, we added a full service outdoor kitchen! It's equipped with a gas grill, refrigerator and ice maker, hot and cold sink, and plenty of storage.
The custom constructed gas fireplace with overhead mounted TV is the perfect place to gather for a warm conversation and just chill. Lush landscape plantings provide seasonal color and plenty of winter interest.
Photos of heated gunite pool in Moorestown:
Are you interested in adding a pool and additional outdoor features to your Moorestown home? Reach out to the professionals at SLS Landscaping today! We are licensed landscape professionals based in nearby Lumberton, and we build custom gunite swimming pools for homeowners throughout South Jersey. We are certified by the
Northeast Spa and Pool Association
and the
Greater Lumberton Regional Business Association
.
Reach out to us today and tell us what you're looking for…we're looking forward to adding value and beauty to your home!
Interested in seeing more case studies, customer reviews and more? Be sure to check out our Facebook page and see much more!