Landscape and Hardscape in Hainesport, NJ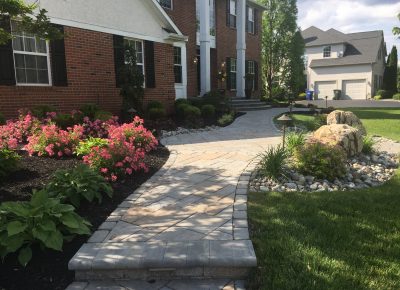 SLS Landscaping completed this beautiful landscape and hardscape in Hainesport, NJ, for a local homeowner. Check out the photos below to see the amazing results, and see the difference we can make on your property with our first class services!
As you can see, this home features a beautiful front landscape with lots of curb appeal. It was built with Techo-Bloc Blu 60 with a Villagio border. The landscape plantings are a combination of deciduous and broadleaf flowering shrubs, along with flowering and conifer ornamentals and perennials, which allows for a nice mix of color and texture.
We also added LED low voltage lighting with a combination of step, path and up-lights, controlled automatically with an astronomical timer, illuminates this landscape at night to provide beauty and safety.
Your Hainesport Landscape and Hardscape Experts!
Have you been searching for a company that can remake your landscape and hardscape in Hainesport? At SLS Landscaping, we can get it all done for you…everything from complete landscape design, hardscape design, full construction and maintenance, and much more. Our certified professionals are trained and experienced in bringing out the beauty and function of your outdoor space.
Reach out to us today to tell us what you're looking for and request an estimate…and be sure to have a look at our Facebook page to see more finished projects, landscape and hardscape ideas, and much more!