Landscape Design in Moorestown, NJ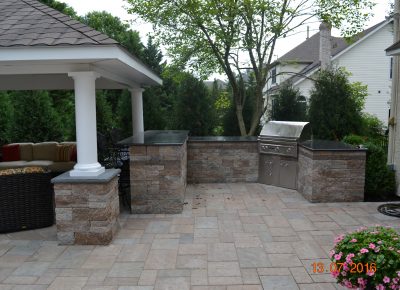 SLS Landscaping, Inc recently complete this landscape design in Moorestown, NJ, for local homeowners. Our staff of professionals designed and constructed this fabulous back yard oasis. The backyard of dreams includes an outdoor kitchen, within proximity to the rear sliding glass door adjacent to the interior kitchen.
The pavilion is constructed over top of the top patio terrace with finished celling, recessed lighting, celling fan and audio. A few steps away you can warm up next to the wood or gas burning fire pit with ample seating for those chilly evenings.
The recessed stainless-steel hot tub here is separated by a pondless sheer decent water feature with color changing LED lighting. This magnificent outdoor environment is surrounded by lush landscaping and magnificent low voltage landscape lighting.
Are you looking to add beauty and value to your Moorestown home's outdoor space? Let SLS Landscaping be the answer to your search for stunning and wonderfully functional landscape design in Moorestown – we are based very near you in Lumberton, and our trained and professional staff can design the landscape of your dreams and curb appeal that you'll love coming home to each day.
We employ a full team of professionals, including landscape architects and designers that use a wide variety of materials for a landscape that is ideal for your home, horticulturists that assist in the planning process and adding beautiful floral enhancements, and turf and ornamental applicators that service and maintain your landscape. Once your landscape is complete, we can provide weekly services to maintain its beauty and function.
Reach out to us today for a quote and get started turning your outdoor space into something better!
Interested in seeing more case studies, beautiful samples of our finished projects, and more ideas for your outdoor space? Be sure to follow our Facebook page today!