Hardscaping and Lighting in Mount Laurel, NJ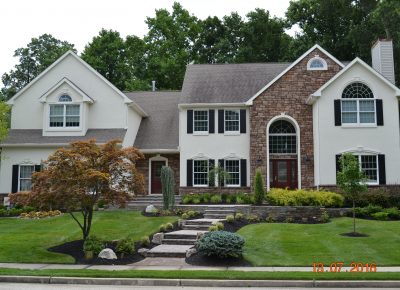 SLS Landscaping completed this hardscaping and lighting in Mount Laurel, NJ. Have a look at the photos below to view the amazing results! If you're interested in adding hardscaping and lighting to your home, reach out to SLS Landscaping today or use this online form to request a quote. Find out what our professional landscaping team can do to add beauty and value to your Mount Laurel home!
This hardscaping and lighting in Mount Laurel features elegant front entrance and landscaping. The upper terrace and steps are built with dry stacked Pennsylvania bluestone, and the walkways and landings are surfaced with architectural pavers and bullnose.
The plantings are a combination of deciduous and broadleaf flowering shrubs, along with flowering and conifer ornamental trees. The bronze architectural step and path low voltage lighting illuminate this landscape at night providing safety and beauty.
The team at SLS Landscaping is a full service landscaping company based in Lumberton, and we serve both residential and commercial property owners throughout the region. We employ a full staff of landscaping professionals, including Landscape Architects and Designers, Certified Nursery and Landscape Professionals, Project Managers, Skilled Craftsmen and Licensed Pesticide Applicators.
SLS Landscaping carries a number of certifications, including as an E.P. Henry Preferred Contractor, NJ Licensed Pesticide Applicators, the New Jersey Nursery & Landscape Association and many more. We believe in first class quality work and in delighting customers!
Interested in seeing more case studies, reading testimonials from happy home and business owners, and seeing more pictures of what we can do for your outdoor space? Be sure to visit us on Facebook today!