Putting Green in Haddonfield, NJ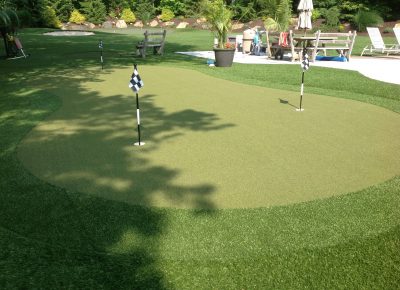 SLS recently completed a synthetic putting green in Haddonfield, NJ. Have a look below at the photos and see the beautiful results, and imagine how we can add a putting green to your yard and help you improve your game!
Do you want the edge on your buddies at the country club? You too could practice on your personal chipping and putting green anytime, right in your back yard! The golf green in Haddonfield, N.J. is perfect for the dedicated golfer or just some family fun. The fairway offers challenge to define your chipping skills, and the putting green will offers perfect practice to pad your handicap.
SLS offers endless design ideas that are specific to the avid golfer and the recreational kids play. Find out more today about what we can do for your outdoor space…reach out to us and tell us what you're looking for, whether it's a putting green, a new outdoor landscape or hardscape, or even a custom gunite swimming pool!
Photos of Putting Green in Haddonfield, NJ
SLS Landscaping does much more than putting greens for Haddonfield residents…we are a full service landscaping and hardscaping company serving the entire South Jersey region! Visit our Facebook page to see more case studies, finished projects, and customer reviews…we're ready to add beauty to your outdoor space and value to your Haddonfield home!