Swimming Pool and Firepit in Lumberton, NJ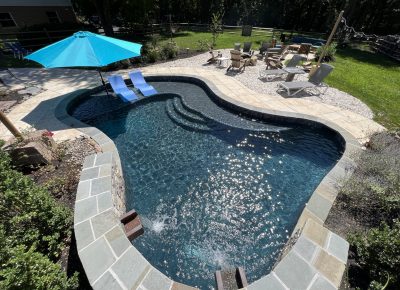 SLS Landscaping recently completed this swimming pool and landscaping project in Lumberton, N.J. This meticulously crafted swimming pool with travertine terrace and crushed seashell firepit seating area is the perfect functional outdoor space. This is the backyard for entertaining, handing out while BBQing and the all day summer swim! The pool has an elevated beam wall veneered with natural stone and 2 copper scuppers spilling water into the lagoon like swimming pool. A sun shelf for the all-day sunbathers and plenty of patio space for entertaining. The crushed seashell seating area surrounds the limestone boulder firepit and the travertine continues for the more formal seating area away from the swimming pool activity. The BBQ grill slides into a natural stone veneer grill enclosure that ties into the surrounding environment. The meticulously selected and planted landscaping surround this outdoor space and ties in the natural wood background. Did we mention the saltwater pool is heated for the early spring and later season swimmers!
Photos of Swimming Pool and Firepit in Lumberton, N.J.