Walkway and Lighting in Hainesport, NJ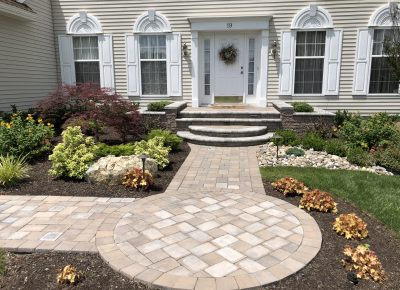 SLS completed this beautiful walkway and lighting job in Hainesport, New Jersey…see the photos below for the beautiful results, and to have a look at what we can do to improve the look and function of your Hainesport home!
We created the front entrance utilizing architectural interlocking pavers and wall block. Hardscape materials were selected to flow with the house exterior and complement the surroundings. A blend of carefully selected evergreen and deciduous plantings and perennial flowers caps off the design. Low voltage landscape lighting brings this landscape to life at night and adds security.
Since 1992, SLS Landscaping has been providing first class landscaping and hardscaping improvements to home and business owners throughout Burlington County and beyond. Our team of experienced professionals have earned multiple certifications, including membership in the Greater Lumberton Regional Business Association (GLRBA), the Interlocking Pavement Institute (ICPI), and Techo Pro Contractor. We make sure to follow best industry practices and stay ahead of the latest trends, to bring you the best in landscaping and hardscaping services. We welcome you to have a look at many more of our completed projects, and even get some ideas for improving your home.
If you have been searching for beautiful and professional walkway and lighting in Hainesport or elsewhere in the region, reach out to us today or click here to request an initial estimate. Let one of our representatives meet with you and tell you more about our expert landscaping services. We're happy to create a beautiful new space that adds curb appeal and value to your Hainesport home!
Photos of Walkway and Lighting in Hainesport, NJ
Read more testimonials from delighted customers, see more case studies and landscaping ideas, and find out more about how we can beautify your Hainesport home's outdoor space…Follow our Facebook page today!