South Jersey Commercial Landscape Lighting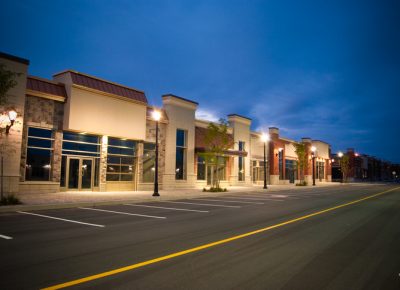 At SLS Landscaping, we're dedicated to being your easy choice for South Jersey commercial landscape lighting. We are centrally based here in Lumberton, and we work with property managers and business owners throughout the region, creating fashionable and inviting curb appeal for a stellar first impression. Our design and construction professionals provide the highest level of service and workmanship in landscape lighting.
The look of your outdoor space is an important part of the overall impression your business makes, both on customers and employees. If you own an office, store, restaurant, or even an industrial facility, installing LED low voltage lighting in your outdoor space adds ambience, functionality and increased security to your place of business. You can use landscape lighting in multiple ways, from highlighting your walkways to emphasizing ornamentals, and make your place of business a much more inviting destination for your customers.
SLS Landscaping can create a lighting design that truly enhances your facility and is tailored to your business style. We have a staff of professional and certified architects and designers that can strategically highlight the beauty of your landscape and building. Our LED low voltage lighting fixtures and stainless steel transformers are only from the highest quality manufacturers. Whether your goal is to entertain, create a relaxing atmosphere, increase safety or anything else, we can design a lighting landscape that is ideal for your business.
Have a look at some of our finished work here!
Your South Jersey Commercial Landscape Lighting Experts
Our professionals are longtime experts in the field, and we use our education and our experience to effectively guide you through our design process. We take the time to meet with you and discuss your ideal design and lighting preferences. All of our landscape lighting designs are created out of the specific needs of our clients and from our design expertise. Landscape lighting is just one of the multiple landscaping services we offer to business owners in the South Jersey area.
Reach out to SLS Landscaping for your South Jersey commercial landscape lighting needs. Call us today or contact us using this form, and ask us about how we can add a new dimension to your outdoor space and curb appeal. We are looking forward to adding atmosphere, beauty and security to your business!
Interested in seeing more case studies and seeing more landscaping ideas? Be sure to follow our Facebook page!