South Jersey Custom Pool Builders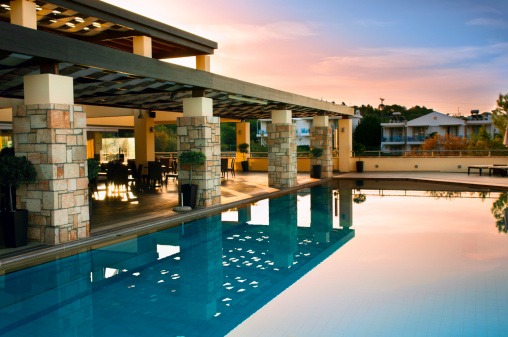 SLS Landscaping is your professional and ideal choice for South Jersey custom pool builders. We are conveniently based in Lumberton, and we build beautiful custom gunite swimming pools for residents throughout the region. When you want to add a beautiful and relaxing new pool to your property, we're here to get it done for you.
Adding a custom pool to your home is a great way to enhance the beauty of your home, add to your entertaining value, and increase the resale value of your home. It's a big job, though, and of course it's something you'll want to leave to a reputable and experienced pool builder.
At SLS, we are certified by the Northeast Spa & Pool Association, and are fully staffed with licensed pool building professionals. Since 1992, we've been committed to customer satisfaction and creating ideal outdoor spaces in South Jersey.
Your Custom Pool Experts
Why install a gunite swimming pool from SLS? In warmer climates like ours especially, gunite is seen as the most viable building method for residential pool construction. Our specialized concrete pools offer not just beauty for your backyard, but also more durability and long lasting strength in structure and surfaces.
We can build your pool on site with a wide variety of design features, without the limitations of having to drop a prefabricated, pre-shaped pool in your backyard. Our pool designs include the latest innovations, from energy saving variable speed pumps to diving boards, stone waterfalls and springs, and deck jets/laminars. Your swimming pool will entertain the senses day and night, and become the focal point of your backyard oasis, while providing endless hours of fun for your family and guests.
At SLS Landscaping, we employ a staff that is regularly trained in recent industry practices. We make sure that your project is in the hands of the most caring and competent South Jersey custom pool builders in the region, all of whom take great pride in their work. Have a look at some of our finished work here.
We invite you to click on the images below and see some of our completed projects. And when you're ready to install a stunning custom swimming pool in your backyard, call SLS Landscaping now or use this online form to tell us about your vision and request an estimate. We're looking forward to creating the outdoor space of your dreams!
Interested in seeing more samples of our finished work and what we can do for your South Jersey outdoor space? Be sure to visit our Facebook page!
South Jersey Custom Pool Builders