Freeform Gunite Swimming Pool In Mt. Laurel, NJ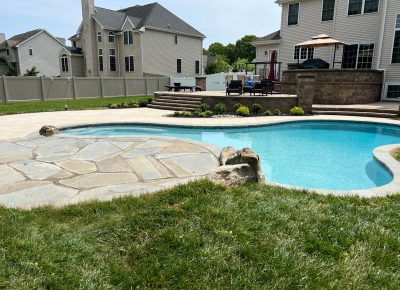 This stunning freeform gunite swimming pool in Mt. Laurel, NJ, is a prime example of our expert craftsmanship here at SLS Landscaping. Our team created this pool as an extension to the clients already gorgeous multi-level backyard living space. This pool was made with bluestone coping, an elevated beam wall with a veneered stone, and an upper bluestone terrace. Our team also installed several landscape plantings to focus on a smooth transition from the multi-layered patio to the new freeform swimming pool in Mt. Laurel. The added landscape plantings provide a splash of different colors, and textures in comparison to the colors of the pool & patio. The addition of the freeform gunite swimming pool has turned this backyard living area into a personal oasis that can be enjoyed for years to come.
Photos of Freeform Gunite Swimming Pool In Mt. Laurel, NJ:
Are you interested in adding a pool and additional outdoor features to your Mt. Laurel home? Reach out to the professionals at SLS Landscaping today! We are licensed landscape professionals based in nearby Lumberton, and we build custom gunite swimming pools for homeowners throughout South Jersey. We are certified by the
Northeast Spa and Pool Association
and the
Greater Lumberton Regional Business Association
.
Reach out to us today and tell us what you're looking for…we're looking forward to adding value and beauty to your home!
Interested in seeing more case studies, customer reviews and more? Be sure to check out our Facebook page and see much more!