South Jersey Commercial Landscape Lighting Services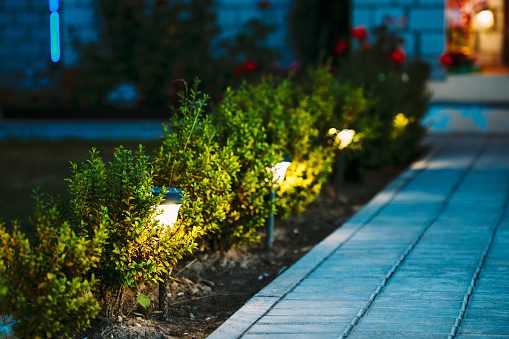 At SLS Landscaping, we're the only choice you need for South Jersey commercial landscape lighting services! Reach out to us today to get started adding a beautiful new feature to your place of business.
If you are a business owner in the competitive region of South Jersey, you know the importance of looking after everything, including the appearance of your facility. Add ambience and improve your security with expert landscape lighting from the top professionals in the area.
The team at SLS Landscaping is centrally based in Lumberton, and we work with business owners and property managers to create curb appeal for your facility that makes a great first impression. From design to construction, we provide the highest level of client service and workmanship in landscape and lighting design.
Whether you own an office, a restaurant, store or industrial facility, LED low voltage lighting makes for an ideal landscape, adding ambience, functionality and security. Adding lighting transforms the outdoor space of your facility, highlights special features like walkways and ornamentals, and creates a more inviting space in the evening that attracts customers to your place of business.
South Jersey Commercial Landscape Lighting Services
Whatever your landscape lighting service needs, SLS can design something truly special to enhance your business. We employ professional architects and designers that know how to enhance the natural beauty of your landscape and highlight the beauty of your building. For entertaining, relaxation, safety or any other purpose, we'll create a high quality, well-designed lighting system for your business. We only use the highest quality LED low voltage lighting fixtures, and stainless steel transformers with astronomical timers.
Our landscaping and lighting designers are longtime professionals, and we have the education and experience to guide you through the design process. We'll meet with you and discuss your personal preferences regarding your business's outdoor space, and establish design goals that reflect those preferences. Each of our commercial landscape lighting designs are uniquely guided by the desires of the client and the expertise of our designers.
Find out more about why SLS Landscaping is the ideal choice in South Jersey commercial landscape lighting services. Call us today or use this online form to tell us about your project. We're looking forward to adding security and beauty to your business landscape!
And for more updates, beautiful finished projects and company news, be sure to follow SLS Landscaping on Facebook!